Photoaffinity Compounds
For easy and efficient exploration of novel protein targets and proteomics screening platforms
Photoaffinity labeling (PAL) is a successful and widespread strategy for ligand-binding site mapping, protein target-fishing, and target identification with affinity-based probes (AfBP). Medicinal chemists and structural biologists often use this powerful technique to reveal molecular targets after phenotypic screens and investigate signaling pathways and interactions between proteins of interest. PAL has become one of the most used tools in chemical proteomics and the studies of protein-protein interactions (PPIs).
Diazirines, benzophenones, and aryl azides are traditional, well-described photocrosslinkers (PLs) used in PAL. Upon photoirradiation, these moieties produce highly reactive species that quickly react with adjacent protein parts resulting in covalent binding, which can be further identified by mass-spec analysis and other methods. We at Enamine have been working on synthesizing new PLs containing molecules for years and now offer the largest and most diverse source of Photoaffinity Compounds, including a vast collection of Fully Functionalized Compounds.
Synthesis
We have refined our parallel chemistry protocols to efficiently synthesize Photoaffinity Compounds using our own collection of photoaffinity building blocks. This collection is the largest in the world, providing access to all classes of crosslinkers having a wide diversity of functional groups to use in synthesis. Over 15 000 ready-to-use Photoaffinity Compounds have been already synthesized. You can additionally select from over 1 million REAL Compounds bearing photoaffinity warheads. These compounds will be synthesized within just 3-4 weeks with a high (80%) success rate. We also offer synthesis of any bespoke compounds bearing specific photoaffinity moieties attached to selected backbones as well as compound libraries virtually of any size.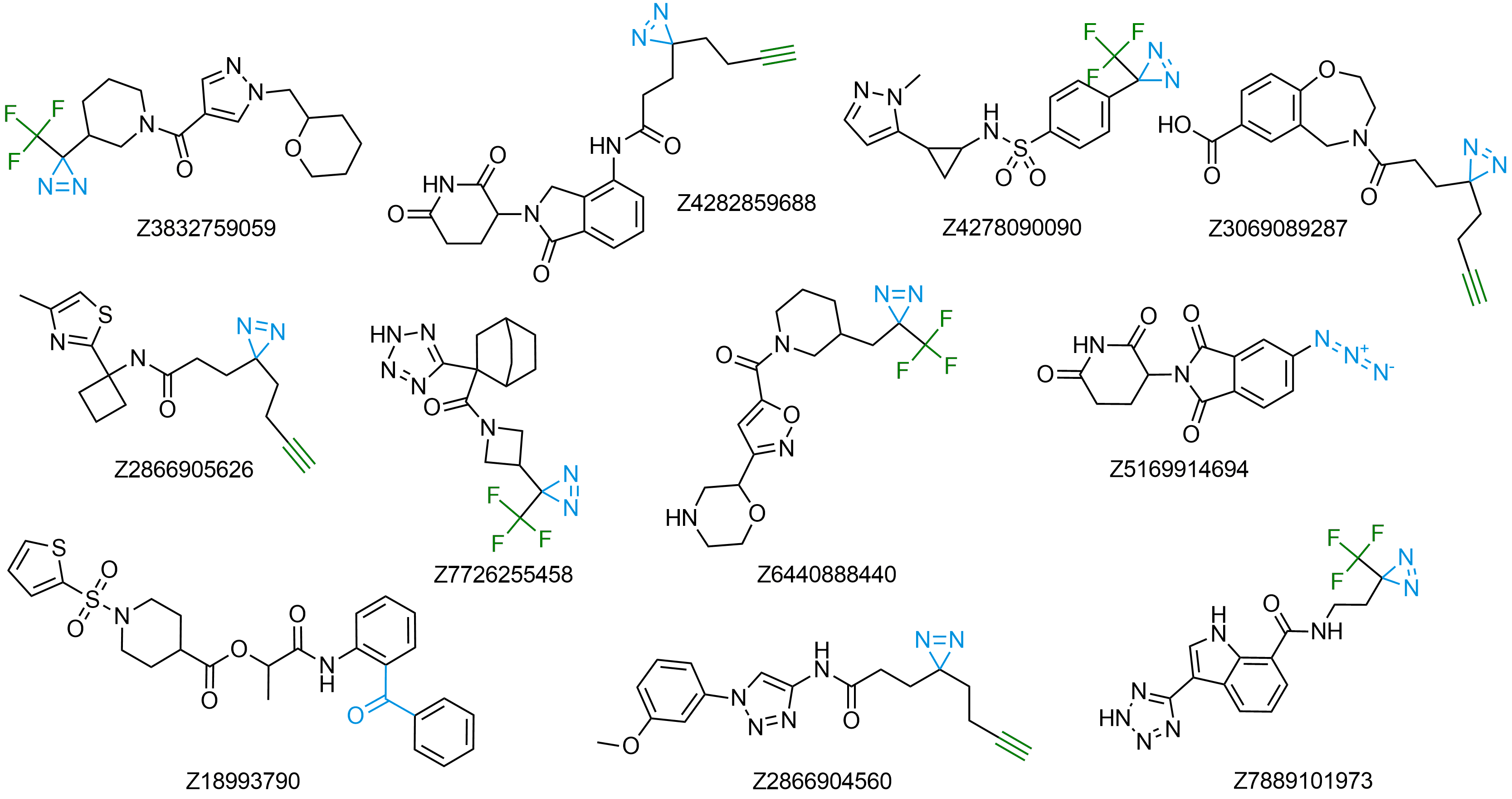 Selected publications
A direct-to-biology high-throughput chemistry approach to reactive fragment screening.
Thomas R. P. et al. Chem. Sci. 2021, 12, 12098-12106. DOI: 10.1039/D1SC03551G
Ligand and Target Discovery by Fragment-Based Screening in Human Cells.
Parker C. G. et al. Cell. 2017, 168 (3), 527-541. DOI: 10.1016/j.cell.2016.12.029
Fully Functionalized Small-Molecule Probes for Integrated Phenotypic Screening and Target Identification.
Cisar J. S. and Cravatt B. F. J. Am. Chem. Soc. 2012, 134, 25, 10385–10388. DOI: 10.1021/ja304213w