Fully Functionalized Probe Library
Designed for easy and efficient exploration of novel protein targets
640 compounds
Fully functionalized probes are designed to speed up and simplify early stages of drug development. Introduction of the diazirine photocrosslinking moiety along with the presence of functional acetylene group allow screening of compounds directly in cells. Originally described in the Cell paper by Ben Cravatt this approach has been adopted by other research groups to a number of successful project, including recently reported by GSK researchers 'direct-to-biology' high-throughput chemistry screening platform.
Enamine currently has almost 3 000 fully functionalized compounds in stock and over 50 000 molecules in REAL Database.

The most diverse compounds have been selected and sorted out into a small library, which has been pre-plated for most convenient and fast delivery to our clients.
Most popular Library Formats
Catalog ID
Compounds
Amount
Format
Price
Catalog ID
FFP-640-10-Y-20
Amount
10 µL of 20 mM DMSO solutions
Plates and formats
384-well echo plates Labcyte Cat. No PP-0200, 320 compounds per plate, first two and last two columns empty
Catalog ID
FFP-640-50-Y-10
Amount
50 µL of 10 mM DMSO stock solutions
Plates and formats
384-well plates, 320 compounds per plate 1,2 & 23,24 columns empty, Greiner Cat. No. 781270
Catalog ID
FFP-640-100-Y-10
Amount
100 µL of 10 mM DMSO stock solutions
Plates and formats
96-well plates, Greiner Cat. No 650201, round (U) bottom, 80 compounds per plate, 1 & 12 columns empty
Please request for any other options through our contact form. We will be happy to deliver our library in any convenient for your project formats.

Key features
Discovery of novel tractable protein targets
Identification of the binding site of the POI
Screening directly in cells
Easy hit confirmation via LC-MS
Next generation libraries can be rapidly synthesized through parallel chemistry
We refined our parallel chemistry protocols to synthesize photoaffinity labelled compounds, allowing our clients to rapidly access follow-up libraries based on the initial screening results.
Fully functionalized library has been designed based on the fragments with experimentally confirmed solubility in aqueous PBS at 1 mM concentration. In addition, we try to cover as much structural diversity as possible to have a different chemotypes and pharmacophores within a limited number of compounds.
Examples of the molecules in the library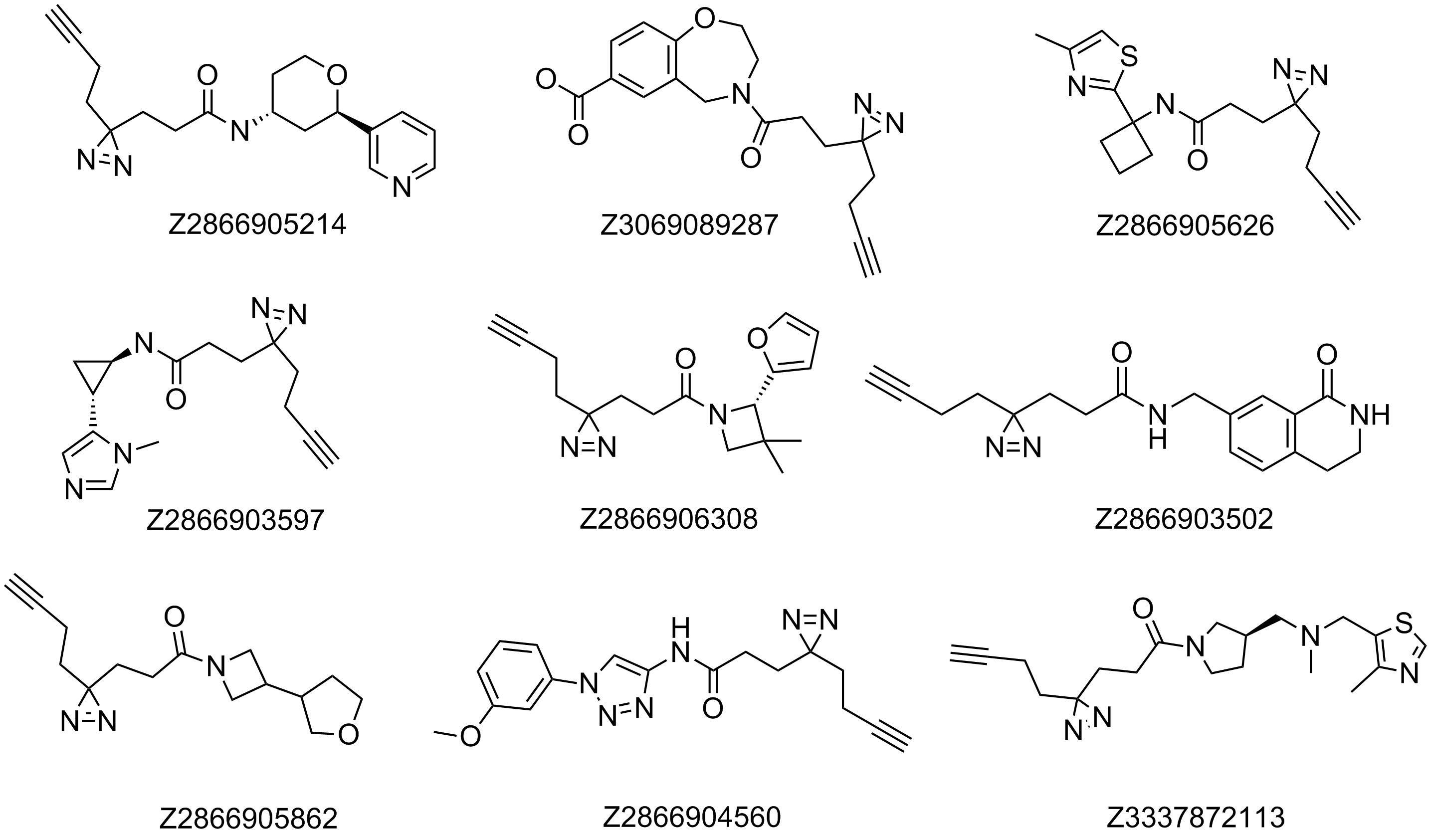 Molecular Properties