Fragments with confirmed aqueous solubility
Ultimate tool for fragment screening
7 500 compounds
Solubility is critically important for fragment-based screening; assured solubility of fragments at high concentrations can prevent a number of issues during the screening procedure. We have confirmed experimentally aqueous solubility for 7 500 fragments in standard phosphate buffer at 1 mM; measurements were performed using nephelometry-based method. Representative subset of 3 000 compounds was designed using multi-vectoral diversity selection.
Key features:
High structural diversity was achieved via two approaches: diversity selection using fingerprint-based Tanimoto distance and molecular framework frequency analysis. Compounds bearing trivial and abundant chemotypes were removed to enhance novelty of the set.
Guaranteed aqueous solubility at 1 mM in PBS buffer and at 200 mM in DMSO
Soluble Fragment Diversity Set can be readily followed with analogues either from stock or from validated syntheses. All required building blocks are available from Enamine stock.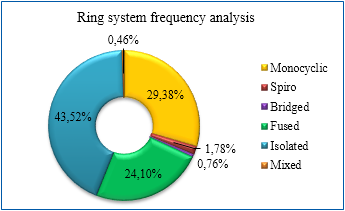 Examples of the molecules in the library