Allosteric Kinase Library
Carefully selected molecules via docking and visual evaluation
5 238 compounds
Development of efficient kinase inhibitors has been a long-standing challenge in drug development. The structural and mechanistic characterization of kinase inhibitor provides new strategies to develop specific kinase inhibitors by targeting a binding pocket adjacent or not adjacent to the ATP binding pocket.
Allosteric kinase inhibition is among the most promising and sensitive deactivation mechanism of kinase activity. Four type of possible allosteric kinase pockets were determined by now: 1) Myristoyl pocket; 2) Inhibitor binding mode that occupies part of binding pocket adjacent to the ATP-site; 3) PIF-pocket (regulatory site targeted); 4) pocket type I1/2 relatively allosteric regulators of kinases.
All available PDB structures with kinase allosteric inhibitors were analyzed. Most representative structures were used for molecular docking calculation. General algorithm of library design represented on the scheme below: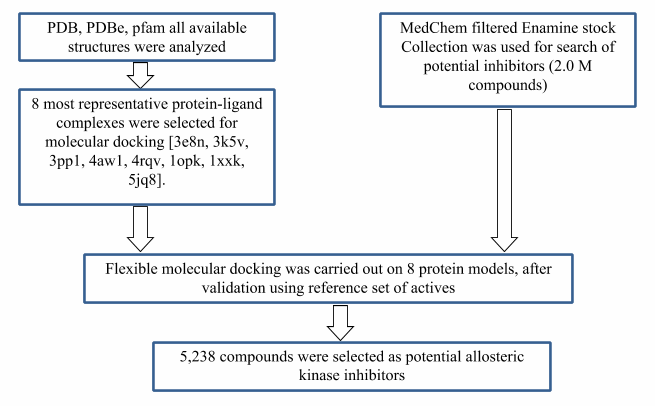 Examples of the molecules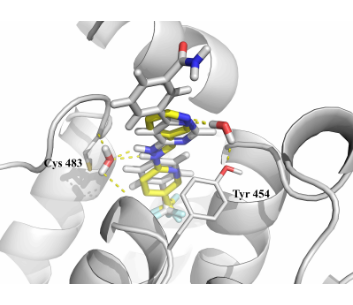 Fig. 1. Example of molecular docking result into the Myristoyl pocket (4aw1 PDB entry). Native ligand represented in grey sticks, docked ligand – in yellow.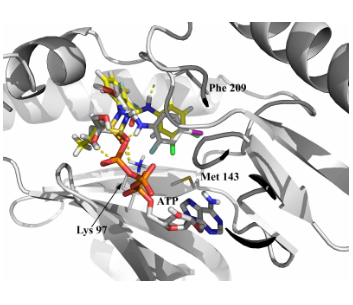 Fig. 2. Example of molecular docking into the ATP-kinase subpocket (3e8n PDB entry). Docking calculations were performed with CoA features.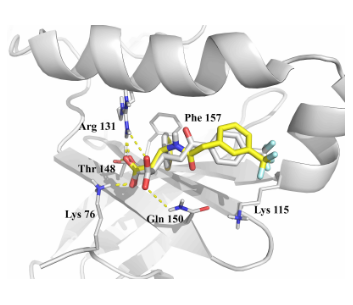 Fig. 3. Example of molecular docking into the PIF pocket (4aw1 PDB entry).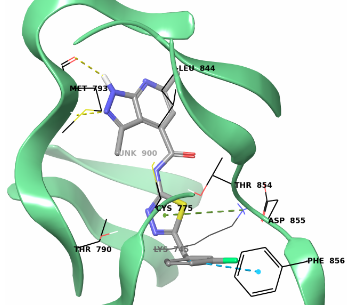 Fig. 4. Example of molecular docking into the PIF I1/2 binding site (4aw1). Hit binding mode.
Library Formats available for immediate supply
Item
Catalog No.
Compounds
Amount
Plates and format
Amount
Minimum amount for 1 HTS
Plates and format
384-well plates (Matrix Cat. No 4312),
320 cpds per plate: first two and last two columns empty
Amount
4 µL of 2 mM
DMSO solution
Plates and format
1536-well plates (Matrix Cat. No 4312),
1280 cpds per plate: first four and last four columns empty
Amount
20 µL of 10 mM
DMSO solution
Plates and format
384 well plates (Matrix Cat. No 4312),
320 compounds / plate: first two andlast two columns empty
Amount
50 µL of 10 mM
solutions in DMSO
Plates and format
384 well plates (Matrix Cat. No 4312),
320 compounds / plate: first two andlast two columns empty