Nucleoside Mimetics
Small library of specially synthesized compounds
290 compounds
Mimetics of nucleosides are special class of proven therapeutic agents, which already showed high efficacy in treatment of viral infections, cancer and bacterial disease. In spite of similar structural motifs and common moieties and even cores, many modified nucleosides display high selectivity to certain class of targets. This type of molecules is well-tunable when using at least two sites of possible modification. Recently, we developed few alternative parallel chemistry approaches to make these compounds more accessible within reasonable time and in cost-effective manner. Using our library for your hit finding you receive multiple benefits:
Well-validated chemistry and guaranteed resynthesis of identified hits.
Straightforward & low-cost synthesis of follow-up libraries through our REAL Database technology.
Medicinal chemistry support enhanced with on-site broad ADME/T panel.
Most popular library formats
Catalog No.
Compounds
Amount
Format
Price
Amount
≤ 300 nL of up 2mM DMSO solutions
Format
384-well microplates, 320 compounds per plate, first two and last two columns empty
Amount
20 µL of 10 mM DMSO stock solutions
Format
96-well plates, Greiner Cat. No 650201, round (U) bottom, 80 compounds per plate, 1 & 12 columns empty
Amount
50 µL of 10 mM DMSO solutions
Format
96-well plates (Greiner Cat. No 650201), 80 compounds per plate: 1 & 12 columns empty
Please request for any other options through our contact form. We will be happy to deliver our library in any convenient for your project formats.
Library Design
Careful Substructure Search Search of nucleoside core fragments and their bioisosteric heterocycles with simultaneous presence of sugar-like moiety
Strict MedChem Filters Removal of undesired functionalities, reactive groups and large aromatic fragments
Chemotype Control Compounds with trivial structural fragments were mostly removed. Control of renovation of the library in accordance to new literature data.
Design of REAL Nucleoside mimetics dataset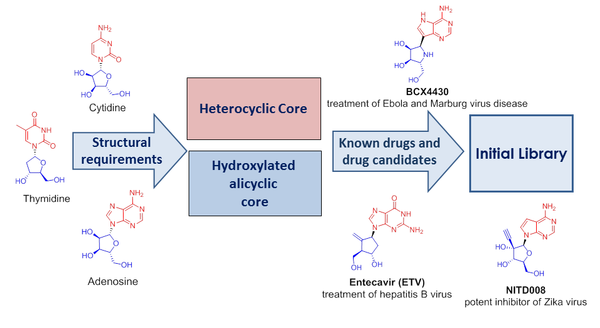 REAL structures with validated synthetic procedures
Combinatorial approach Over 100 000 Building Blocks immediately available for modification:

Diazine heterocyclic cores mimic nucleobases
alicyclic amino alcohols - sugars

Filtering of unwanted functionalities & MedChem inspection
Automated parallel synthesis Implementation of well-developed reaction procedures operated by highly experienced staff
Design of REAL Nucleoside mimetics dataset