DSI-poised Library
Designed for easy and rapid follow-up synthesis
860 compounds
Fragment screening is an efficient way of establishing initial points for drug discovery. However, seemingly simple small molecules don't necessarily mean that their chemistry is not complex. Quite the contrary, fragment hits may be challenging to follow up. Synthesis routes can be long and rigid not allowing making small specific changes while growing, linking or merging the hit.
It was shown by Cox et al., in Chem. Sci. 2016 that the compounds synthesised from a robust and general synthetic reaction can be prioritized for building fragment library. Identification of so-called "poised" bonds in a fragment means that a library of analogues can be rapidly elaborated using standard parallel chemistry. First poised library was developed at Diamond Light Source, UK (Diamond) and Structural Genomic Consortium, UK (SGC) in the frame of one of the iNEXT Joint Research Activities. Enamine collaborated with the joint research alliance in design of a next generation of DSI-poised Library. DSI stands for Diamond, SGC and iNEXT. On January 10 2018 Diamond and SGC announced that Enamine would become a key supplier of poised fragment and analogue libraries to the XChem Facility in Oxford, UK.
Most popular library formats
Catalog ID
Compounds
Amount
Format
Price
Catalog ID
DSI-860-10-Y-100
Amount
10 µL of 100 mM DMSO solutions
Plates and formats
384-well plates Greiner Cat. No 781280, 320 compounds per plate, first two and last two columns empty
Catalog ID
DSI-860-25-Y-100
Amount
25 µL of 100 mM solutions in DMSO
Plates and formats
384-well plates, 320 compounds per plate 1,2 & 23,24 columns empty
Catalog ID
DSI-860-3-Z-500
Amount
3 µL of 500 mM solutions in DMSO-D6
Plates and formats
1536-well microplates, Cat. No LP-0400, 1280 compounds per plate, 1-4 and 44-48 columns empty
Catalog ID
DSI-860-100-X-10
Amount
100 µL of 10 mM DMSO solutions
Plates and formats
96-well plates, Greiner Cat. No 650201, round (U) bottom, 80 compounds per plate, 1 & 12 columns empty
Please request for any other options through our contact form. We will be happy to deliver our library in any convenient for your project formats.
Library Design
The original library developed by Diamond and SGC has been enhanced with a careful selection of fragments synthesized at Enamine via parallel chemistry from its building blocks, which are widely commercially available. Every researcher will be available to quickly synthesize analogues of the poised fragments because such building blocks are not complex and are exemplified with many analogues on the market. The reactions are frequently used in parallel chemistry: amide coupling, reductive amination, Suzuki-Miyaura coupling, aromatic nucleophilic substitution, synthesis of sulfonamides, ureas, etc.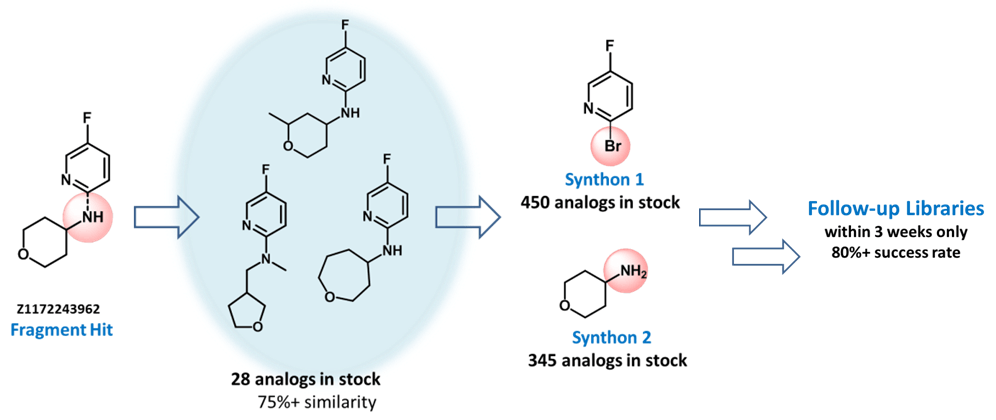 Examples of the molecules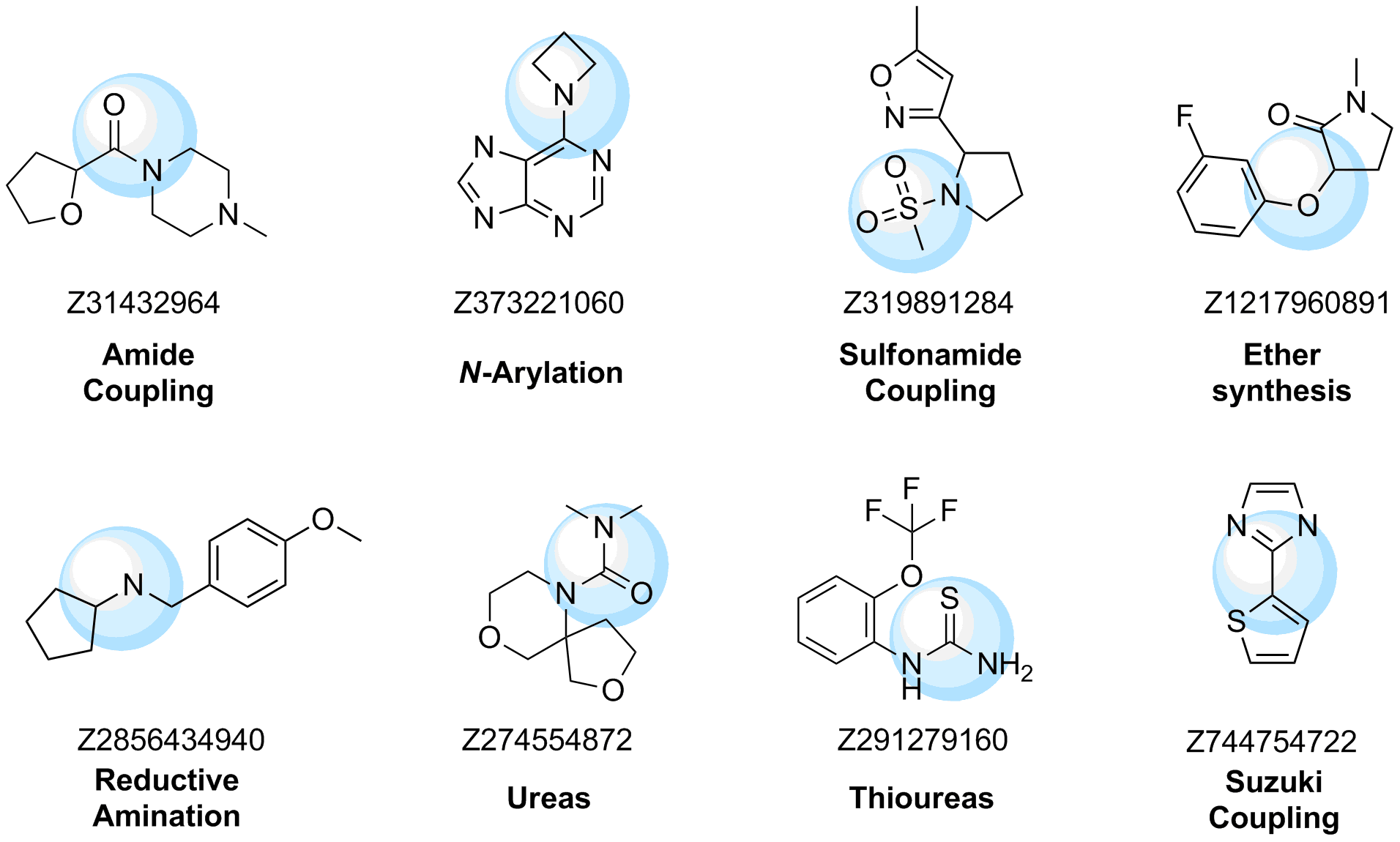 Molecular parameters distribution