Covalent Screening Library
Designed to be the most reliable source of well-working covalent binders
10 480 compounds
Covalent screening became an integral part of Drug Discovery process. Covalent probes play essential role in discovery of new technologies, investigation of new proteins and assessment of their drugability.
A number of successful examples, when converting lead molecule to covalent binders increased overall efficacy acknowledged this approach as a powerful tool for medicinal chemists.
To create a reliable source of covalent modifiers Enamine focused on elaboration of parallel synthesis approaches to synthesize series of new valuable covalent compounds. The newest building blocks were used to produce a number of high quality covalent binders. Thorough efforts of Enamine's scientists resulted in production of the largest commercially available collection of Covalent Compounds. Compounds with most interesting and well-working covalent "warheads" were selected and pre-plated as Covalent Screening Library, aimed to represent diversity of the entire Enamine's Covalent Collection.
Covalent Screening Library available plated at 10 mM concentration in DMSO. Each covalent binder type is plated in the separate plates. Library can be supplied in multiple formats including the following options:
Catalog No.
Library
Amount
Format*
Price
Catalog No.
CSL-10480-0-Z-10
Compounds
Covalent Screening Library
10 480 compounds
Amount
≤300 nL of 10 mM DMSO stock solutions
Format
1536-well microplates, Labcyte acoustic LDV
Catalog No.
CSA-3920-10-Y-10
Compounds
Acrylamide sublibrary 3 920 compounds
Amount
10 µL of 10 mM DMSO stock solutions
Format
384-well plates, Greiner Bio-one microplates No 784280, first two and last two columns empty
Catalog No.
CSC-1120-25-Y-10
Compounds
Chloroacetamide subibrary 1 120 compounds
Amount
25 µL of 10 mM DMSO solutions
Format
96-well plates, Greiner Cat. No. 650201, 80 compounds per plate 1 and 12 columns empty
*Custom formatting options can be requested.
Key features
Careful choice of warheads: only experimentally confirmed, well-validated reported in a number of papers.
Compounds plated by classes for ease of reactivity analysis and residue-focusing.
Novel compounds featuring new chemistry and the latest Enamine core Building Blocks.
Distribution by covalent warheads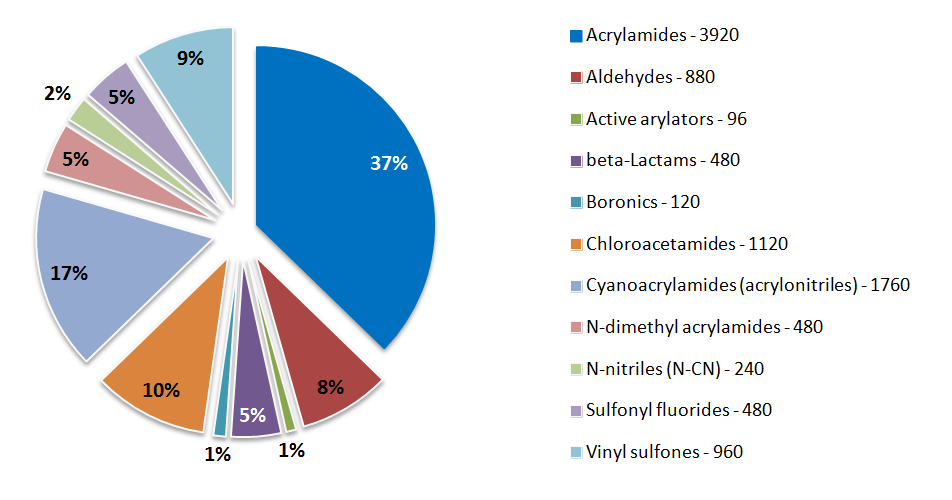 Examples of covalent binders in the library
**Please note that Boronics and Sulfonyl fluorides may not give the exact molecular ion in mass spectra. Boronic acids require addition of 1-1.5% of water for LCMS spectra.
Molecular Profile of the Library