Boronic Covalent Compounds
Over 5000 boron-containing compounds in stock
880 pre-plated compounds
Boronics are mild and reversible covalent binders with proven efficacy and oral bioavailability. Our expertise in synthetic chemistry and high scientific interest in the field (see our publications), allowed our chemists to produce, over 5 000 boronic acid derivatives. All compounds are available for cherry-picking, and every month our experts expand our boronics library with new compounds. We have selected the most diverse 880 compounds, from Enamine stock, to compose our preplated Boronics Library. This library is available as 10 mM in DMSO and can be conveniently supplied for screening in various plates using customized plate maps. Boronics Library consists of two parts, which can be purchased separately: 400 fragments having single aromatic or aliphatic boronic groups in Boronics Fragment Library and 480 compounds having formyl boronic moiety in Formyl Boronics Library.
Typical Formats
Catalog No.
Compounds
Amount
Format
Price
Catalog No.
Covalent Screening Formyl Boronics Library
FBA-480-10-X-10
Amount
10 µL of 10 mM DMSO solutions
Plates and formats
384-well plates Greiner 781280, 320 compounds per plate, first two and last two columns empty
Price
This email address is being protected from spambots. You need JavaScript enabled to view it.
Catalog No.
Boronics Fragment Library
BAF-400-25-X-100
Amount
25 µL of 100 mM DMSO solutions
Plates and formats
96-well plates, 2D-barcoded Matrix microtubes #3734, 1 and 12 columns empty, 80 cmpds per plate
Price
This email address is being protected from spambots. You need JavaScript enabled to view it.
Catalog No.
Boronics Fragment Library
BAF-400
Plates and formats
Any custom format
Price
This email address is being protected from spambots. You need JavaScript enabled to view it.
Bortezomib discovered as the first effective proteasome inhibitor validated the proteasome as a cancer target and revealed a novel approach in anticancer drug discovery. Further development of the next-generation proteasome inhibitor, the boronic ester prodrug Ixazomib citrate, has shown that boronic compounds can be administrated orally.
Other boron-containing drugs inhibit enzymes through formation of covalent adducts with catalytic nucleophilic residues like serine. The antifungal Tavaborole and phosphodiesterase-4 inhibitor Crisaborole, approved recently to treat psoriasis, contain benzoxaborole groups different from those reported before. More boronic compounds are in different pre-clinical and early clinical stages.

The high demand for boron-containing compounds is due to their unique electron structure. Although normally tri-coordinated, boronics readily adopts tetra-coordinated state upon exposure to nucleophiles and in such way can quickly form reversible adduct with nucleophilic residues such as serine, lysine, tyrosine, threonine, and cysteine thereby blocking the function of target proteins.

Boronic trigonal-tetragonal equilibrium, and covalent binding mode types
Enamine provides a wide range of boron compounds including boronic acids, and their more stable boronic ester analogues. In our library you could choose either aliphatic or (hetero)aromatic boronates.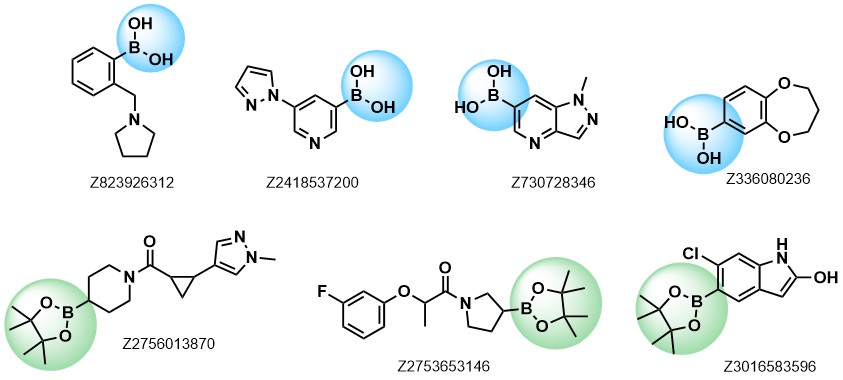 Examples of pre-plated Boronic Fragments
A growing number of studies are using aromatic α-formyl boronic acids as a selective warhead targeting lysine residue. Introduction of boronic acid residue into α-position of benzaldehydes (well-known covalent warhead) dramatically enhances stability of resulting Shiff bases by formation of 5-membered complex. The covalent adducts can be reversibly cleaved, that can be an advantage in case where irreversible off-target modification is observed.

Recently research groups of Markus A. Seeliger & David R. Liu were developed subtype selective cyclophilin E reversible inhibitor with formyl boronic warhead covalently targeting lysine residue (Lys217)1. It is important that analogs with either the aldehyde or the boronic acid alone, respectively, showed reduced potency by 16-fold and 100-fold. Another example of α-carbonyl boronic warhead was developed into inhibitor of sortase A of S. aureus.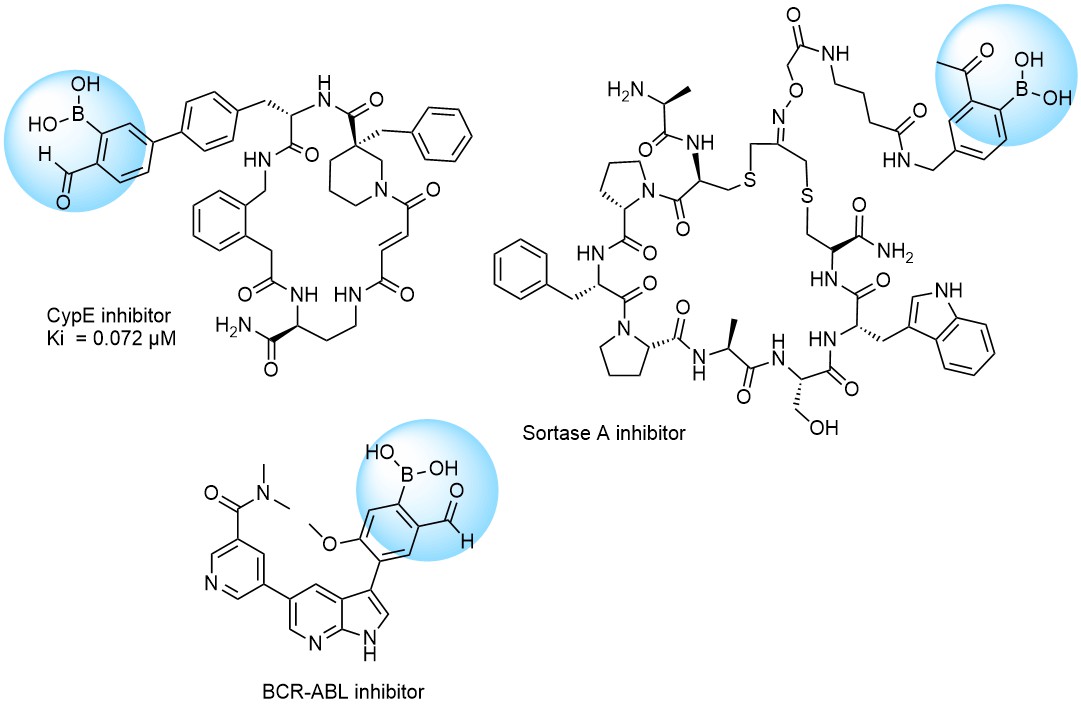 Examples of Formyl Boronates in pre-plated Covalent Screening Library