Covalent Screening Library
Largest and most reliable source of Covalent Modifiers
14 249 compounds
Covalent screening became an integral part of Drug Discovery process. Covalent probes play essential role in discovery of new technologies, investigation of new proteins and assessment of their drugability.
A number of successful examples, when converting lead molecule to covalent binders leads to increase of overall efficacy, acknowledged this approach as a powerful tool for medicinal chemists.
To create a reliable source of covalent modifiers Enamine focused on elaboration of parallel synthesis approaches to synthesize series of new valuable covalent compounds. The latest building blocks were used to produce a number of high quality covalent binders. All our efforts have resulted in production of the largest commercially available collection of covalent compounds. Most diverse molecules with representation of all available covalent "warheads" have been pre-plated into representative Covalent Screening Library.
Most popular library formats
Catalog No.
Compounds
Plates
Amount
Format
Price
Amount
150 nL of 2 mM DMSO solutions
Format
384-well microplates, 320 compounds per plate, first two and last two columns empty
Amount
10 µL of 10 mM DMSO stock solutions
Format
1536-well microplates, Echo Qualified, 1280 compounds per plate, first four and last four columns empty
Amount
25 µL of 10 mM DMSO solutions
Format
384-well microplates, 320 compounds per plate, first two and last two columns empty
Please request for any other options through our contact form. We will be happy to deliver our library in any convenient for your project formats.
Library design
Enamine Covalent Screening Library has been extracted from the "Rule of Five" compliant subset of the Screening Collection using substructure searches of specified structural features. Active functionalities able to form covalent bonds with protein residues have been analyzed, and the "warheads" listed below were selected as optimal in terms of reactivity and essential stability. Additionally, the chemical environment of each reactive group was checked to be suitable for moderate reactivity of the compound. Molecules with non-druglike cores and structural features were removed from the library using internal structure filters and in-house elaborated rules. The final set of selected compounds has been evaluated manually to avoid too reactive entities and eliminate structural shortcomings of the substructure searches.
Structural fragments used for the selection
Acrylamides, acrylonitriles
Activated terminal acetylenes
Cloracetamides, Alkyl halides
Epoxides, aziridines
Alkyl thioles, disulfides
β-lactams, -lactones
Sulfonyl fluorides/esters
Carbamates, activated Aryl ureas
2-cyano/-Cl nitrogen heterocycles
Vinylsulfones, -sulfonamides
Boronic acids
General scheme of the library design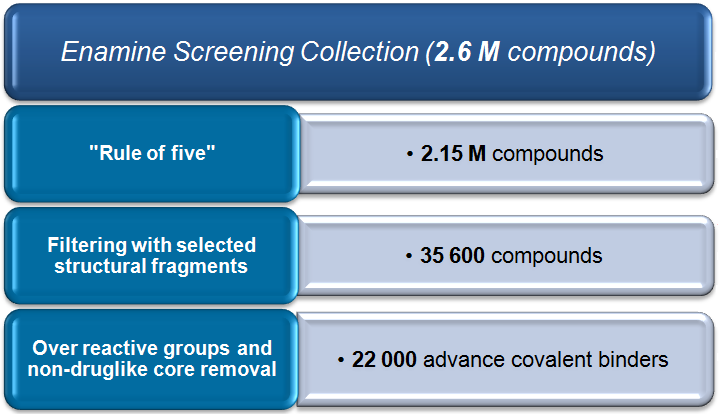 Examples of the compounds