if (!$tlm) { include_once("banner/ADS.php"); } ?>

PRODUCTS


Download WNT/FZ Signaling Modulators Library SDF
Embryo development is a complex process that involves a variety of steps. Only a few different signal pathways are responsible for the multifaceted operation of embryo development, and the pleiotropic Wnt signaling pathway affects almost all steps, e.g. mesoderm induction, neural induction, and body axis formation. In mature organisms the Wnt signaling pathway is required for adult tissue maintenance. When the pathway is dysfunctional e.g. due to mutations, several human degenerative diseases and numerous cancers may occur. Alzheimer, multiple sclerosis, polycystic kidney disease, type 2 diabetes, arthritis, colon cancer, lung cancer and breast cancer are some examples. Recent evidence suggests that activation of Wnt pathway may be of benefit to osteogenesis and neurodegenerative disorders.
Figure 1. Canonical Wnt/Fz signaling cascade (Future Med. Chem. (2015), 7(18), 2485–2505)
showing specific target-biased focused libraries available from Enamine.
Wnt/sFRP-1 Interaction Inhibitors Library
1 300 compounds
This selection of small molecules takes into consideration Wnt/sFRP-1 (Secreted Frizzled Related Proteins) interaction. sFRP-1 family of proteins includes endogenous molecules that bind both Wnt ligands and Fz receptors (Fig. 2).
Figure 2. Epigenetic inactivation of negative regulators of WNT signaling.
(a) In cancer cells, epigenetic inactivation of SFRP and DKK enables β-catenin to translocate to the nucleus, which leads to activation of WNT signaling.
(b) In normal cells, SFRP and DKK are associated with key WNT signaling molecules such as WNT ligands and LRP5/6, which prevent translocation of β-catenin to the nucleus [1].
It is believed that inhibition of sFRP-1 would result in vicarious activation of Wnt signaling. In adition, WAY 316606 is a sFRP-1 inhibitor (Ki 80 nM) that was described to increase total bone area in a murine calvarial organ culture assay at < 1 nM concentration [2]. It is also reported to be antiosteoporotic agent [3]. WAY-262611 is a Wnt pathway agonist that increases bone formation rate with EC50 of 0.63 uM in TCF-Luciferase assay. WAY-262611 exhibits good pharmacokinetic properties and a dose dependent increase in the trabecular bone formation rate in ovariectomized rats following oral administration [4]. Specific attention needs to be paid to monitoring specific organ toxicity associated with a long-term perturbation of Wnt pathway including neoplasia(s) [5, 6], although recent data suggest otherwise [7]. Current (sub)library size is 1 346 compounds.
A)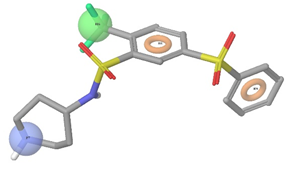 B)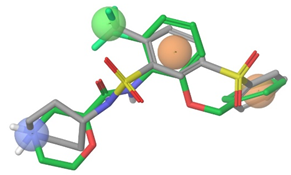 Figure 3. A) Pharmacophore model based on WAY 316606; orange – aromatic/heteroaromatic groups, green-hydrophobic pharmacophore (halogen, CF3, CHF2, Me, Et, iPr etc.), blue-positively charged moiety (+NH3Alk, +NH2Alk2, +NHAlk3 etc.); B) Superposition of WAY-316606 and our pharmacophore construct used in (sub) library design
List of references
Tohoku J. Exp. Med. 2010, 221, 11-17
Bodine, Peter V. N, et al. A small molecule inhibitor of the Wnt antagonist secreted frizzled-related protein-1 stimulates bone formation. BONE, 2009, 44:1063-1068.
Moore, William J, et al. 2009. Modulation of Wnt Signaling Through Inhibition of Secreted Frizzled-Related Protein I (sFRP-1) with N-Substituted Piperidinyl Diphenylsulfonyl Sulfonamides. J MED CHEM, 52:105-116.
Pelletier JC, et al. 2009. (1-(4-(Naphthalen-2-yl)pyrimidin-2-yl)piperidin-4-yl)methanamine: a wingless beta-catenin agonist that increases bone formation rate. J MED CHEM, 52:6962-5.
Mariz K., et al. 2015. The Wnt inhibitor dickkopf-1: a link between breast cancer and bone metastases. CLIN EXPER METASTASIS 2015, ahead of print.
Zhang T, et al. 2014. Hyperactivated WNT signaling induces synthetic lethal interaction with Rb inactivation by elevating TORC1 activities. PLOS GENETICS, 10:e1004357/1-e1004357/14.
Phesse TJ, Sansom OJ. 2013. Responding to R-spondin:Slit2 potentiates intestinal regeneration. CELL STEM CELL, 13:512-514.
DKK-1 Inhibitors Library
3 000 compounds
We used both docking and ligand-based approaches to assemble this subset. Specifically, the DKK1/LRP6 protein-protein interaction (PPI) interface was utilized to select matching ligands from our selection of drug-like compounds (650 000 total available molecules). For the docking approach we took into consideration data on analogues of NCI8642, a reported DKK-1/LRP6 interaction inhibitor.1 Specifically, we focused our design on topological and charge distribution features of the critical Dkk-1 loop that binds to LRP6. We reasoned that blocking/destabilizing this loop feature of the DKK-1/LRP6 PPI may yield modulators and/or activators of Wnt signaling while maintaining 'normal' Wnt-Fz-LRP6 signaling.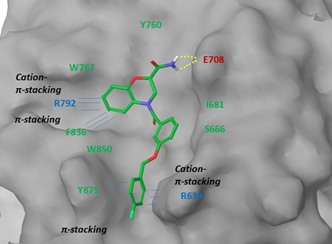 Figure 4. Binding interface between LRP6 protein and representative ligand from the focused subset.
For the ligand-based approach we used known DKK-1 inhibitor WAY 262611 to identify 3 014 lead-like compounds in our premium commercial set of 650 000 molecules.
A)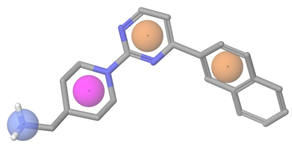 B)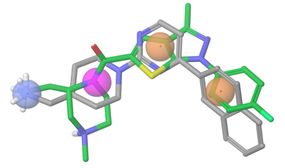 Figure 5. A) Pharmacophore model based on WAY-262611; orange – aromatic/heteroaromatic groups, blue – positively charged moiety (+NH3Alk, +NH2Alk2, +NHAlk3, etc.), magenta – aliphatic ring;
B) Superposition of WAY-262611 and our pharmacophore construct used in (sub) library design.
Dvl-Axin Inhibitors Library
2 500 compounds
Dvl-Axin interaction is mediated by specific PDZ-domain. Since structural information on this PPI interface is not available, we built a respective homology using the reported amino acid sequence and numerous SBio data on PDZ domains. The resulting model was used to conduct docking of our drug-like collection of small molecules at Enamine (650 000 compounds) and prioritize the best 'hits' using rigorous internal medchem filters to yield ca. 2 559 final Dvl-biased compounds.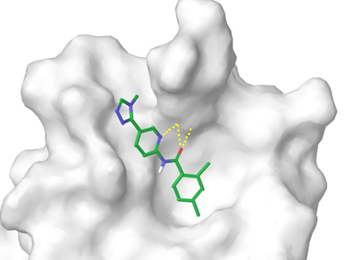 Figure 6. A representative example of Dvl/PDZ-domain binding ligand from our focused set.
β-Catenin/TCF4 Protein-Protein Interaction Library
1 700 compounds
In order to model the interaction interface between b-catenin and Tcf-4 we used reported structural data [1] to identify critical contacts including intriguing protonated pyridine (cation) – p-interaction between docked ligand and Arg474/515 tweezers. Taking into consideration topology of the hydrophobic pocket and H-bond of the aromatic NH2 group with protein's Lys508 residue we built a respective pharmacophore model (Fig. 7). Docking and scoring of our medchem screening set (ca. 650 000 diverse drug-like compounds) yielded a focused selection of ca. 1 771 prioritized small molecules immediately available for screening.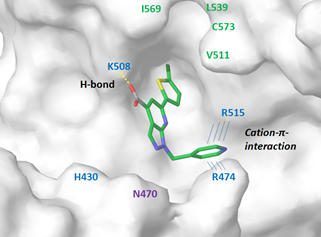 Figure 7. Binding interface between b-catenin and representative ligand from the focused subset.
β-Catenin/Bcl9 Protein-Protein Interaction Interface Library
1 700 compounds
In order to assemble a focused small-molecule subset to tackle this interaction, we turned our attention to the published structural data. We built our pharmacophore model taking into consideration the reported helix-helix interaction between the two biological molecules. Specifically, we investigated the key H-bonds between H358, R359 (Bcl9) and D162, D164 (b-catenin) [1]. Following docking and prioritization studies of our medchem compound selection, we picked molecules that
secured hydrogen bonding with D162/D164;
exhibited a significant π-stacking/hydrophobic interaction area with β-catenin to result in 1 779-compound library.

Figure 8. Binding of β-catenin and a representative ligand from the focused subset.
Bcl9/PYGO/Histone 3 Interaction Interface Library
300 compounds
As yet another option to block Wnt/Fz signaling, we turned our attention to PYGO/Histone 3 interaction.1 Notably, it has been shown earlier that small molecules could bind PHD domain of PYGO that engages methylated Histone 3 residue, resulting in disrupted interaction of b-catenin and Bcl9 [1]. Docking and scoring studies of the resultant hits yielded a selection of 317 small molecules. A representative ligand mediating multiple hydrophilic interactions, p-stacking with Phe366 and hydrogen bonds is shown on Fig. 9.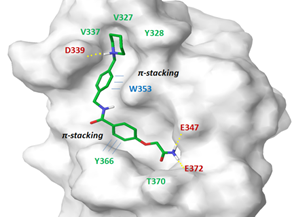 Figure 9. Representative molecule bound to the key amino acids of H3K4me2.