3D Pharmacophore Diversity Set
Ro5 compliant 3D Pharmacophoric Diversity Set
4 800 compounds
3D-Pharmacophore Diversity set (3DS) was designed for optimal coverage of pharmacophoric shapes maintaining high level of diversity. 3DS library will be a useful tool for screening against a wide range of both validated and novel biological targets. Carefully developed selection algorithm ensures quality of initial hits enabling fast hit follow-up using stock-available analogs and validated synthetic chemistry protocols.
Library design

Wide range of filtering methods was used for selection of drug-like compounds with maximum 3D-pharmacophore coverage and uniform distribution:
Combination of cheminformatics protocols to provide the rational distribution in chemical space: bCUT descriptors, cell-based diversity analysis in 2D and 3D plots, both h-s and h-suppressed binary descriptors were used.
Strict filtering using 3D structure-based analysis. Only centroid molecules were selected for further processing with 3-point pharmacophore comparative analysis.
2Dprop analysis (ClogP, logS tPSA, HBD, HBA, rotatable bonds count, ring number), PMI and fingerprint-based diversity (linear fingerprints).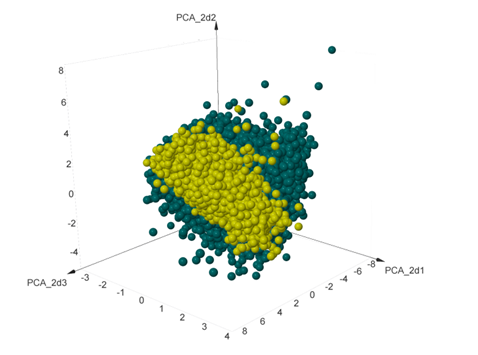 Spatial representation of compounds distribution in 3D chemical space based on a set of 2D properties, PCA approach.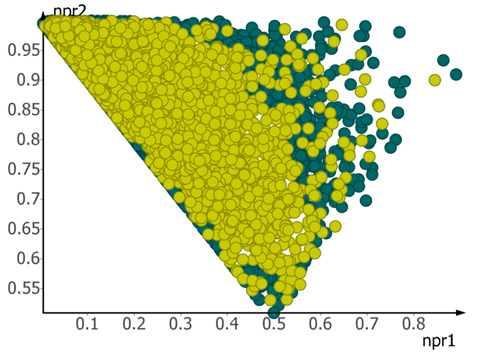 PMI plot demonstrates good distribution of selected compounds subset by molecular shape (diversity set represented as light green circles).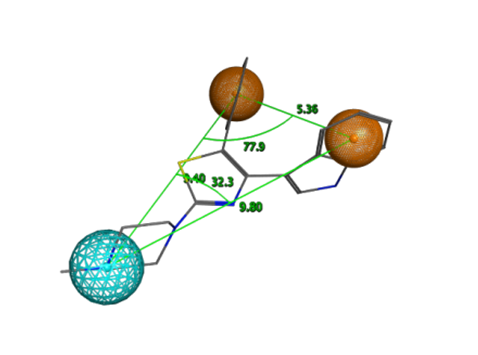 Example of 3D-pharmacophore with spatial constraints.
Pharmacophore space with each unique 3-point pharmacophore was generated based on 3D pharmacophore descriptors and represents potential interaction map between compound and biological target.
The following molecular features were used to create 3-point pharmacophores: H-bond donors, H-bond acceptors, positively charged centers, negative charges and hydrophobic areas (pharmacophore graph with triangle fingerprints).
Examples of the molecules
Library formats
Item
Catalog #
# of cpds
Amount
Format
Amount
Assay-ready plates,
≤ 2 µL of 10 mM
DMSO solution
Plates and format
384-well plates, 320 cpds per plate:
first two and last two columns empty
Amount
Assay-ready plates,
≤ 2 µL of 10 mM
DMSO solution
Plates and format
1536-well plates, 1280 cpds per plate:
first two and last two columns empty
Amount
50 µL of 10 mM
DMSO solution
Plates and format
384-well plates, 320 cpds/per plate:
first two and last two columns empty
Amount
100 µL of 10 mM
DMSO solution
Plates and format
96-well plates, 80 cpds/per plate:
first and last columns empty