Wnt/sFRP-1 Interaction Inhibitors Library
This selection of small molecules takes into consideration Wnt/sFRP-1 (Secreted Frizzled Related Proteins) interaction. sFRP-1 family of proteins include endogenous molecules that bind both Wnt ligands and Fz receptors.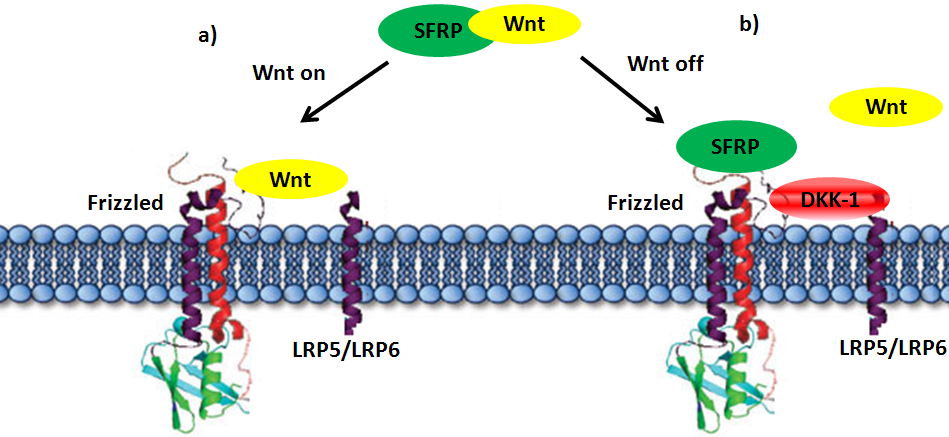 Fig. 1.Epigenetic inactivation of negative regulators of WNT signaling. (a) In cancer cells, epigenetic inactivation of SFRP and DKK enables β-catenin to translocate to the nucleus, which leads to activation of WNT signaling. (b) In normal cells, SFRP and DKK are associated with key WNT signaling molecules such as WNT ligands and LRP5/6, which prevent translocation of β-catenin to the nucleus (from Tohoku J. Exp. Med. 2010, 221, 11–17).
It is believed that inhibition of sFRP-1 would result in vicarious activation of Wnt signaling. In adition, WAY-316606 is a sFRP-1 inhibitor (K i= 80 nM) that was described to increase total bone area in a murine calvarial organ culture assay at < 1 nM concentration. It is also reported to be antiosteoporotic agent. WAY-262611 is a Wnt pathway agonist that increases bone formation rate with EC 50 of 0.63 uM in TCF-Luciferase assay. WAY-262611 exhibits good pharmacokinetic properties and a dose dependent increase in the trabecular bone formation rate in ovariectomized rats following oral administration. Specific attention needs to be paid to monitoring specific organ toxicity associated with a long-term perturbation of Wnt pathway including neoplasia(s), although recent data suggest otherwise. Current (sub)library size is 1 346 compounds.
Fig. 2.(a) Pharmacophore model based on WAY-316606; orange – aromatic/heteroaromatic groups, green-hydrophobic pharmacophore (halogen, CF 3, CHF 2, Me, Et, iPr etc.), blue-positively charged moiety ( +NH 3Alk, +NH 2Alk 2, +NHAlk 3etc.); (b) Superposition of WAY-316606 and our pharmacophore construct used in (sub)library design.
[submenu-wnt-lib][/submenu-wnt-lib]